RoverTM
Untethered Service: Mobile Tablet extension of
your PMS. Free your staff from the front desk.
Welcome to the New Service
It's already a paradigm shift in retail stores. Now it is coming to your hotel.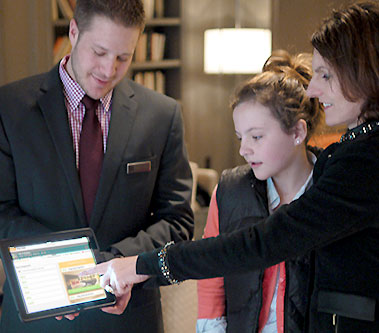 An empowered mobile staff removes barriers, allowing the servicing of guests where they are anytime, thus creating a deeper connection.
Companies like Apple and Nordstrom have proven that the New Service paradigm is a competitive differentiator.
The "Front Desk" will become more of a concept than a physical reality.
No limits.
Rover is a PMS overlay that extends what your service team needs.
Check In
Check Out
Folios
Extend Stay
Payment
Loyalty
Room Assignment
Upgrades
Add-ons
PMS Integration
Reviews
Service Request
Key Integration
Facebook Integration
Guest Messaging
The benefits of good design.
Up to 80% reduction in training
Staff simply know how to use it
A design that pushes upgrades
Guest/Group Check-Ins… Anywhere
Reduce Front Desk Lines
Improved Guest Engagement
Why settle for complicated, hard-to-use software?